October 10, 2011
Well, that was quite the boring day. I had the day off from work today but hubs had to go in. I got up shortly after he left for work and picked a spot on the couch to have my Green Tea and watch Good Morning America... something I clearly haven't been able to do in quite a long time. Shortly after I was bored stiff. I did some cleaning and organizing that I had to get done and by 1:30 I was tapping my foot waiting for it to be 4:00 so I could leave for crossfit.
I made dinner today too... or so I thought. A beautiful pork roast sitting in the crock pot with onions, mushrooms, carrots, squash and celery with a little white wine, garlic and chicken broth... sounds great right? It smells great too... but when the power goes out and you have a crock pot meal going, it not ideal for cooking!! I lost power at 2:00 and it was still out when I left at 4:00... so no crock pot dinner for us tonight. Boo. Hubs is in the kitchen making talapia.
So, the workout. It was... shall I say... DYNAMITE! What a great time!! When I got to the gym K was there, she let me know that KP and T were coming, P was coming and a new guy J that was joining tonight. Than the 5:30 session was going to be A and another newer guy J that started last week. There were so many of as at the gym the energy was so great!!
The warmup was pretty fun with a group, its exciting to see the CFW family grow! We all went for a quick street jog together and finished up inside with the rest of the warmup. We had to split the workout because right now K only has 4 abmats... so the first heat was Me, KP, T and one of the new guys J. KP and I were ready to challenge each other! We knew we could lean on each other and push each other to extents that we normally wouldnt feel if we were alone at the gym. All 4 of us lined up and we were ready to go.

When you look at this WOD you think, "eh, that wouldnt be that bad," but it was a lot of work. I think mostly, it was a mental game. When you first start and go from the 1 wall ball to the 1 abmat sit up you think that its going to be pretty easy. At that point, it was anyones game and we were all at the same pace. By the time we hit the 5's you could see where everyones strengths were. It was exciting to me, as I had KP in my peripheral vision and I knew she was keeping watch on me... we were in this one together! We were going to power through it and use one another as fuel so we wouldnt slow down and we wouldnt rest.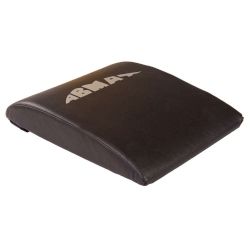 By the time we got to the teens she and I were cheering eachother on when we transitioned from the abmat situps to the wall balls. I never rested. I would take a sip of my water from the floor to the wall and the only time I would allow myself a break was when I would let the ball hit the floor, but it was only enough of a rest to get down, pick it up and get going. The next think I knew I was onto the 19's.
KP was ahead of me going into the abmat situps, but I made up some time on them... she got back to the wall a little before me for the set of 20 wall balls and I took a sip of water while getting up. I said to myself, "you have to do this in sets of 5" but I actually banged out 10 before dropping it. All that was left was another 10, but I did 5 and dropped it. At that point, she was finished with them and moving on to the abmat. I pushed through the last of my wall balls and got right to the floor. It was game on time I had to get these 20 abmat sit ups... I pushed as hard as I could and finished 22:32 and KP seconds later! Damn, did it feel fantastic!!
Both KP and I agreed that the best thing we cold have asked for was she and I working together on this one!! We continued to cheer on J and T who worked their butts off to finish. Than I stuck around, did my turkish get ups and watched A, Hubs, P and J do their WOD. Again, it was awesome to see so many people working together and pushing to their limits. It was exactly what CF is all about and again... it makes me so happy to be a part of the CFW family!
Looking forward to tomorrow mornings workout. Back to the "usual" and where I feel my best... 5:30am!!
WARMUP:
Street Jog
2 X 9 Fundamentals
10 Inchworms
10 Shoulder Dislocates
10 Leg Swings (front than side)
WOD:
"The Count" for Time
1 Wall Ball, 1 Abmat Situp
2 Wall Balls, 2 Abmat Situps
...YOU GET THE PICTURE...
19 Wall Balls, 19 Abmat Situps
20 Wall Balls, 20 Abmat Situps
(My Time 22:32)
SKILL/STRENGTH:
Turkish Getups 10-10-10
(12KG Kettle Bell)
FOOD:
7:30am: Green Tea
12:00pm: Three Eggs and Bacon
3:00pm: Pear
7:30pm: Tilapia and Green Beans